I had been researching name origins right around the holiday season, which somehow transformed into the following poem.
Aedan - Born of Fire
Ballantine - from Baalen, and teine, fire, the fire of Baal. A place where Bal, or Belus, was worshiped by the Celts.
And a Child Shall Lead Them ... Astray
On a cold December evening,
on the cusp of Capricorn;
From the bosom of the shadows
Aedan Ballantine was born.
Swathed in silhouette of twilight,
Suckled by nocturnal beast;
and baptized, immersed in darkness,
with a devil for his priest.
And the devil christened Aedan,
Son of Ba'al (nee Ballantine),
with a mark upon his forehead,
a burning manger for his shrine.
And the trumpet call at midnight,
'twas the baying Hounds of Hell;
Crying, "Hail! the Lord of Shadows!
It is Hades' first Noel!"
Then the yuletide burned with brimstone
'til the Eastern Star grew dim;
and the sulfur fumes awakened
the cloven-footed cherubim.
As the children sang their carols
to the Christ, on streets of snow,
Heaven's angels joined their chorus
o'er the wailing from below.
And the wailing stoked the fire,
which consumed unwitting souls,
Who had laid their gifts of penance
'pon the manger's burning coals.
They had followed 'cross the desert
As the moth does, to the flame;
Seeking light to fill their darkness,
and to praise His Holy Name.
They had marked this date, to celebrate,
as the birth of Holy Christ;
But the child they hailed, the son of Ba'al,
set Forever as his price.
Still does mortal Man give all he can,
to gain immortality;
With a single day, hoping gifts will pay
for all Eternity.
Now it's Christmastime, no peace on Earth,
nor good will to all mankind;
And for every wise man, there's a fool
for Lord Aedan Ballantine.
On a cold December evening,
On the cusp of Capricorn;
Aedan walks amidst the shadows,
so let each man be forewarned.
©2011 R.J. Gardner - All Rights Reserved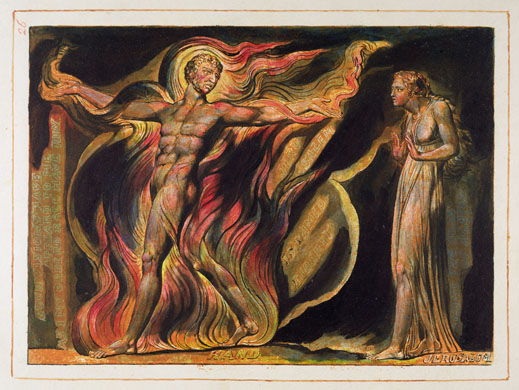 William Blake: Jerusalem (1804-1820)